Diálogos Hispanos: Mariano - Florentino Cuellar
Tue, 4 October, 2022
5:00pm - 7:00pm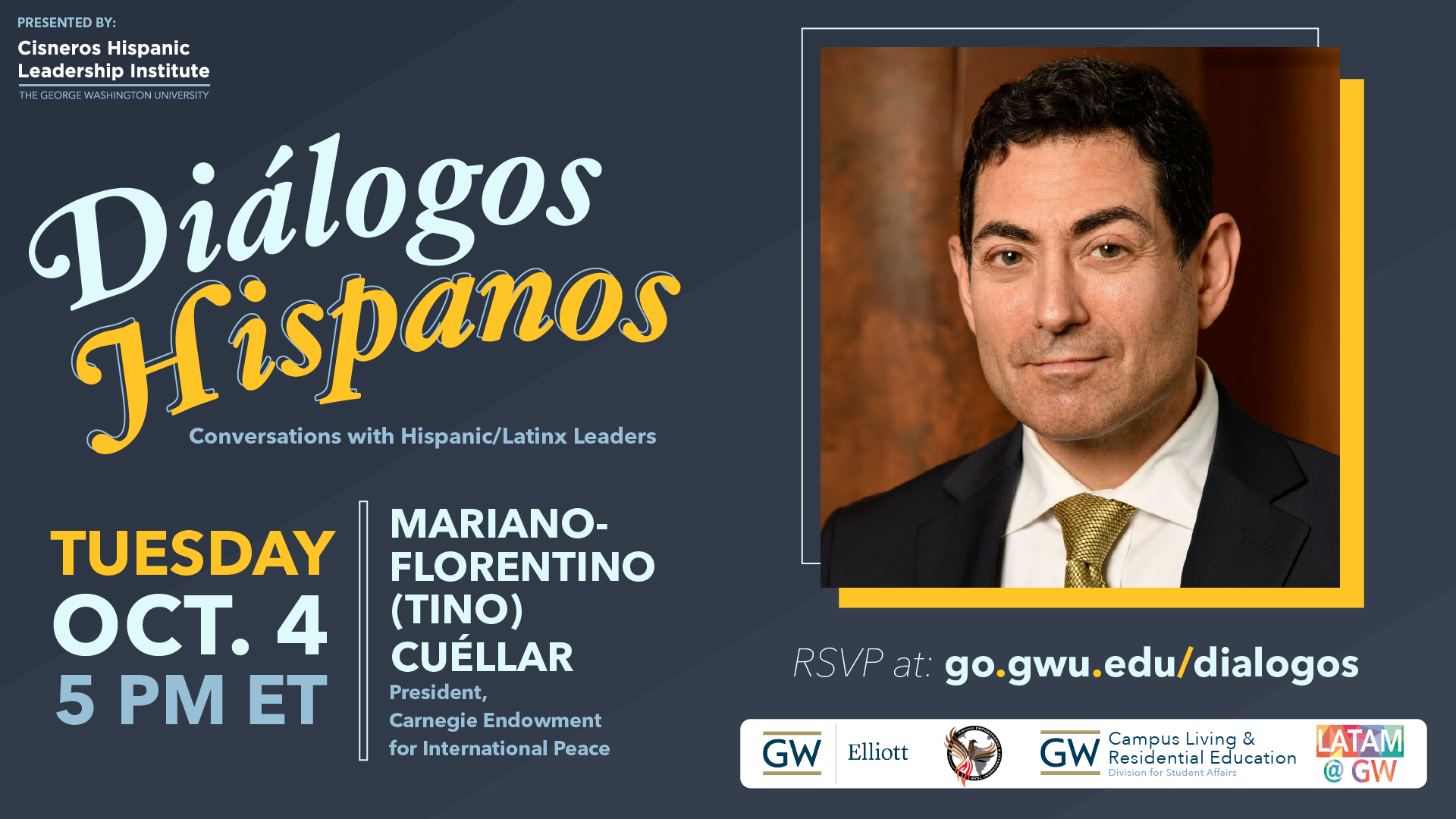 The Diálogos Hispanos Speaker Series is an initiative of the Cisneros Hispanic Leadership Institute that aims to inspire the GW community through stimulating conversations with diverse leaders about the role of Hispanics/Latinos in global society. Through their personal and career journeys, these leaders help elevate Hispanic/Latinx voices and serve as role models for anyone with an interest in public service.
Mariano-Florentino (Tino) Cuéllar is the first president of the Carnegie Endowment for International Peace of Hispanic/Latin heritage. He is an exceptional leader who brings a lifelong commitment to innovative policy and an intellectual heft that will inspire students of all backgrounds. His stellar and varied career path includes serving as Justice in the Supreme Court of California, working as Special Assistant in the Obama White House, leading efforts to repeal "Don't Ask Don't Tell", developing federal response to H1N1 flu virus, oil and food contamination emergencies, co-chairing the Immigration Policy Working Group for the Obama-Biden transition, and co-chairing the U.S. Department of Education's Equity and Excellence Commission, among others. Cuéllar was also the Stanley Morrison Professor at Stanford Law School and Director of Stanford University's Freeman Spogli Institute of International Studies.
Born in Matamoros, Mexico, Cuéllar grew up primarily in communities along the U.S.-Mexico border. He graduated from Harvard College and Yale Law School and received a Ph.D. in political science from Stanford University.
Moderated by Paulina Vera, GW Law.