The Consequences of Inaction: A Narrative Toolkit on the Social, Mental, and Emotional Effects on DACA Recipients in Limbo
Tue, 1 November, 2022
12:00pm - 1:00pm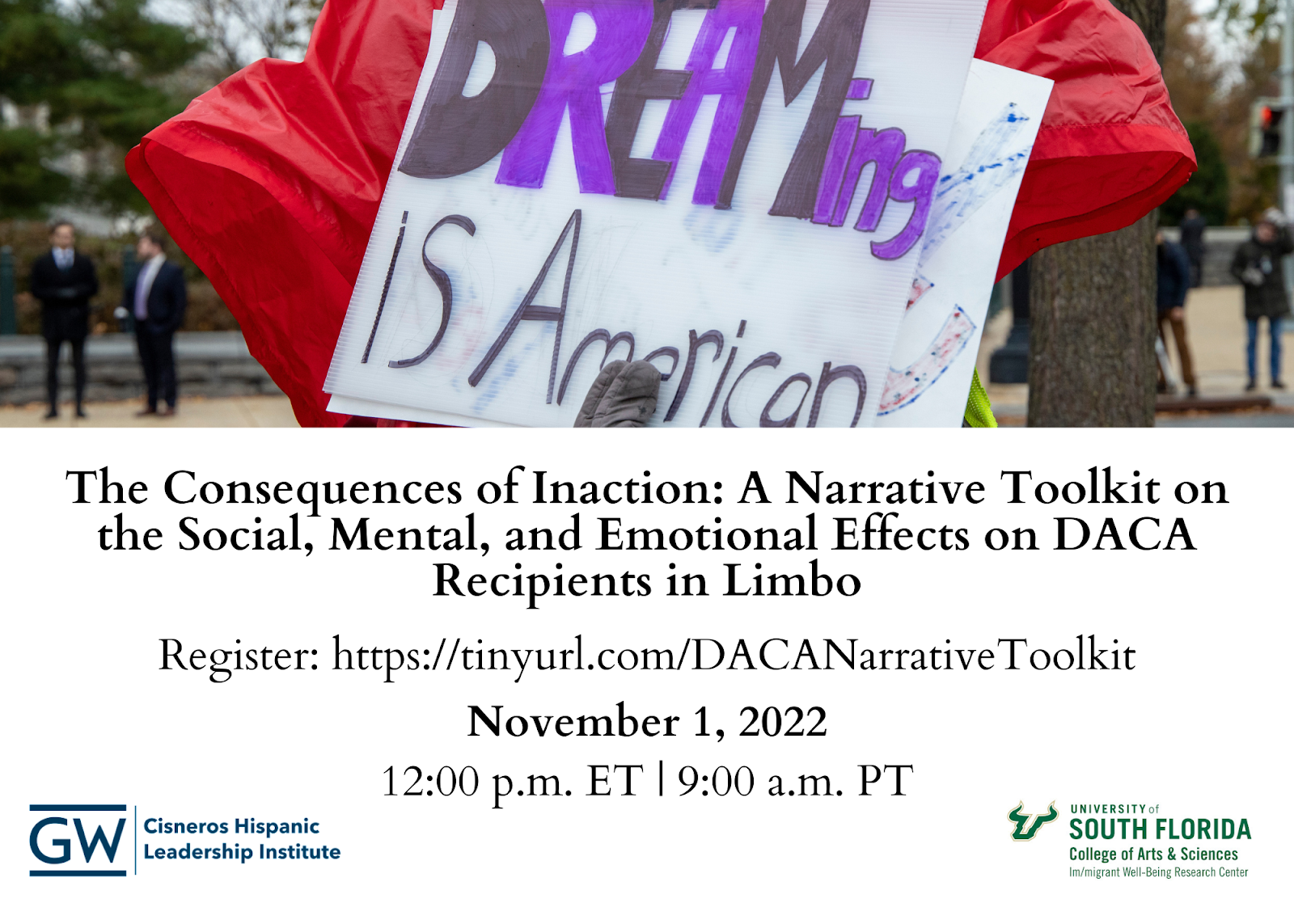 In the wake of court rulings that deeply threaten the existence of Deferred Action for Childhood Arrivals (DACA), we look to Congress to do what it has been unable to accomplish for a decade: Act. After years of limbo, researchers at the Cisneros Hispanic Leadership Institute, the Im/Migrant Well-Being Research Center, and the University of South Florida set out to examine the emotional, social, and mental consequences for DACA recipients forced to live election to election and court case to court case. In a series of in-depth interviews with DACA recipients over several years, they took a deep dive into not only the end of DACA, but the threat of the end. 
In a rare piece of peer-reviewed qualitative research on life as a DACA recipient after 2016, their subsequent report centers the experiences of 51 young people in the Tampa, Florida area as they navigate the social, mental, and emotional effects of relying on a program under attack and what this means for their everyday lives.
Join us for the launch of a new toolkit rooted in research and centered on storytelling, The Consequences of Inaction: A Narrative Toolkit on the Social, Mental, and Emotional Effects on DACA Recipients in Limbo. Learn more about the original research and hear from research participants themselves on the power of storytelling and the consequences of a frozen Congress and living in limbo. 
Presenters:
Dr. Elizabeth Aranda, Professor of Sociology and Director of the Im/migrant Well-Being Research Center at the University of South Florida (Moderator)

Nanci Palacios, Research Participant, Deputy Director of Faith in Florida

Cirenio Cervantes, Research Participant, Congregation Organizer at Faith in Florida

Lora Adams, Senior Policy Associate at Masa Group LLC