The Only Latina in the Room
Female Representation in National Security
Thu, 13 October, 2022
5:30pm - 8:00pm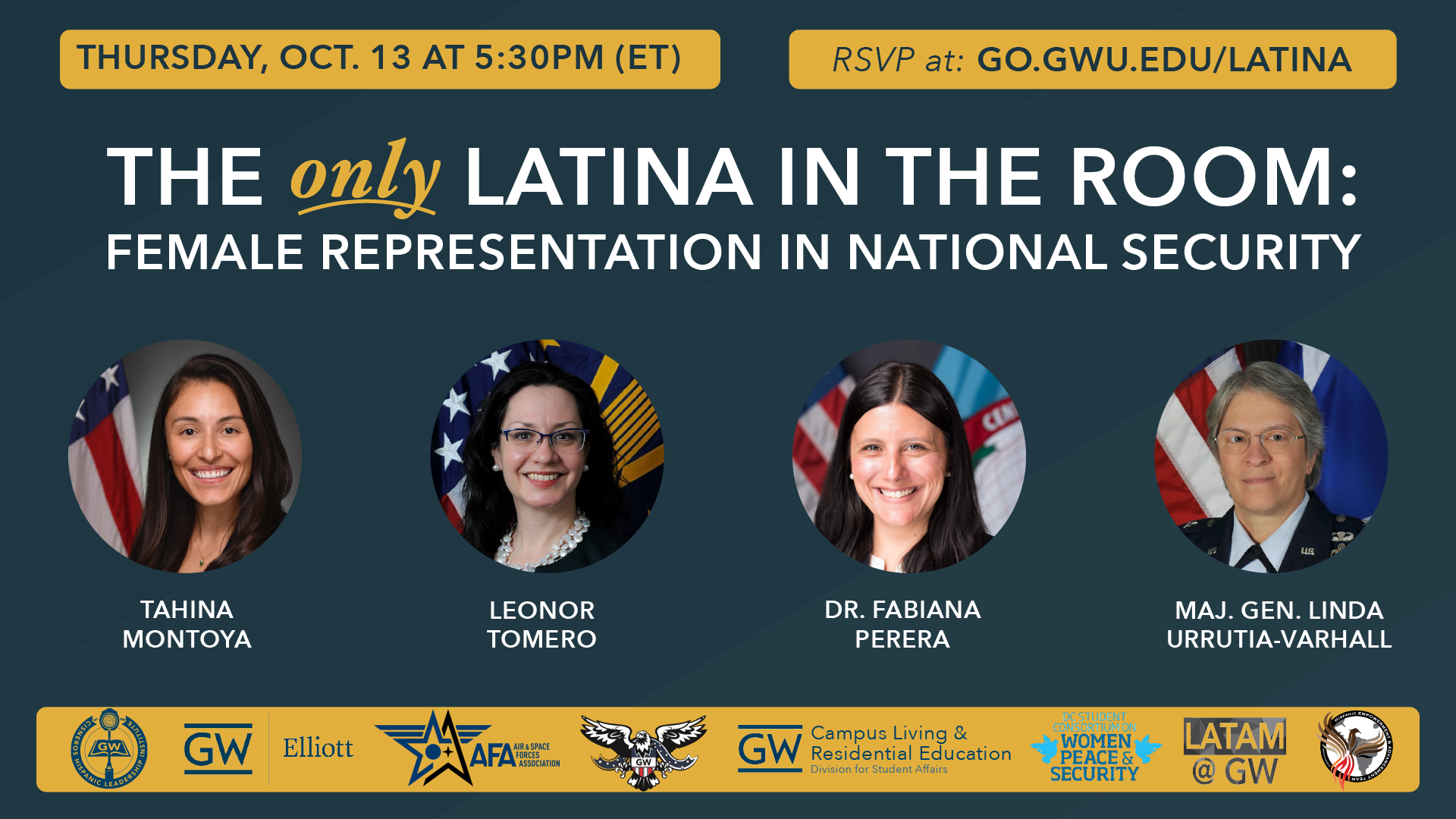 Latina and Hispanic women continue to succeed and shine in the professional environment, yet they are still underrepresented in the national and international security space. According to Fabiana Sofia Perera, Latina and Hispanic women represent less than 1% of the National Security leadership. Join us for a panel discussion on representation and equity, followed by opportunities to network with Latina leaders and national security professionals!
Tahina Montoya is a multilingual, International Affairs Strategist & Women, Peace and Security Expert. She served over 12 years Active Duty as an Air Force Intelligence Officer working at the tactical, operational and strategic levels both nationally and internationally. In that capacity she has experience leading over a dozen humanitarian missions around the world
organizing efforts to better integrate women and underrepresented groups into the armed forces, including through more equitable human resource policies. Ms. Montoya is a Major in the United States Air Force Reserves where she serves as a Strategic Analyst for the Americas Trans-regional Threat Center at the Defense Intelligence Agency and co-lead for the Department of the Air Force Hispanic Empowerment & Advancement Team (HEAT). In her civilian capacity Ms. Montoya is a Doctoral candidate at Georgetown University. Most recently, Ms. Montoya received a presidential appointment from the Biden Administration. In that capacity she works at the Pentagon as Special Assistant to the Assistant Secretary of the Air Force for Manpower & Readiness.
Leonor Tomero is a leading expert on nuclear deterrence, national security space and missile defense, including applying innovative technologies and concepts for strategic deterrence.  She currently serves as a commissioner on the congressional Commission on Strategic Posture of the United States. In 2021, she served as Deputy Assistant Secretary of Defense for Nuclear and Missile Defense Policy where she was responsible for the United States' nuclear deterrence policy. Prior to this role, she served for over a decade as Counsel and Strategic Forces Subcommittee Staff Lead on the House Armed Services Committee covering strategic forces issues, including national security space and establishment of the US Space Force, nuclear weapons, nuclear non-proliferation, nuclear clean-up, missile defense and strategic stability issues. Before joining the Committee staff, she was Director of Nuclear Non-Proliferation at the Center for Arms Control and Non-Proliferation and as President of the Lawyers Alliance for World Security.  She holds a B.A. from Cornell University, an M.A. in security studies from Georgetown University and a J.D., cum laude, from American University.  
Fabiana Sofia Perera is an Associate Professor at the William J. Perry Center for Hemispheric Defense Studies. Prior to joining the Perry Center, Fabiana was a Rosenthal Fellow at the Office of the Secretary of Defense, Under Secretary for Policy, Western Hemisphere Affairs. Fabiana has experience working in the public and private sectors. She worked as a research associate at Mitsubishi International Corporation focusing on Latin America and the energy and infrastructure sectors. She also has experience serving at the Department of Veterans Affairs and the US Agency for International Development (USAID). Fabiana holds an MA in Latin American Studies from Georgetown University and earned a PhD in Political Science from The George Washington University. For her doctorate, Fabiana completed fieldwork in Venezuela and Ecuador. Her research and analysis have appeared in numerous publications including The Washington Post, CNN.com, and War on the Rocks. Her research has been supported by numerous organizations including Columbia University's Women in Energy program and George
Washington University's Center for International Business Education.
Maj. Gen. Linda R. Urrutia-Varhall is Director of Operations at the National Geospatial-Intelligence Agency. General Urrutia-Varhall was commissioned in 1984 as a graduate of the U.S. Air Force Academy. Following her initial assignments at Offutt Air Force Base, Nebraska, she was selected to participate in the Professional Military Graduate Intelligence Program in Washington, D.C. After completion, she was the first Air Force representative to the National Military Intelligence Center. Her service at the Pentagon included executive support duty to three Secretaries of Defense and as an international politico-military affairs officer on the Somalia Task Force. The general has held command and staff positions in the wing, major command, headquarters and joint environments. In 1998, she was named to command the first Air Force Information Warfare Flight at 9th Air Force/Central Air Forces, Shaw AFB, South Carolina. She also deployed to Southwest Asia where she served as Chief, Analysis Division and an operations officer for the Joint Intelligence Center at U.S. Central Command Headquarters Forward. General Urrutia-Varhall also served as the Senior Military Assistant to the Under Secretary of Defense for Intelligence and Senior Executive to the Director of National Intelligence. Prior to her current position, she served as Director of Intelligence, Surveillance and Reconnaissance (J2) at U.S. Southern Command in Florida and then as Assistant Deputy Chief of Staff, Intelligence, Surveillance and Reconnaissance on the Air Staff at the Pentagon, Washington, D.C.
Moderated by Elena Rodriguez, MA candidate in the Latin American and Hemispheric Studies Program and member of the DC Student Consortium on Women, Peace, and Security